Snappin' Turtle X Starbucks
Our Journey with Starbucks
Over the last 5 years we've celebrated Starbucks' commitment to company culture and sustainability, through compelling films.
Working across multiple departments, from marketing, public affairs, CSR, HR and Operations, we delve into the essence of the company's values and bring their stories to life.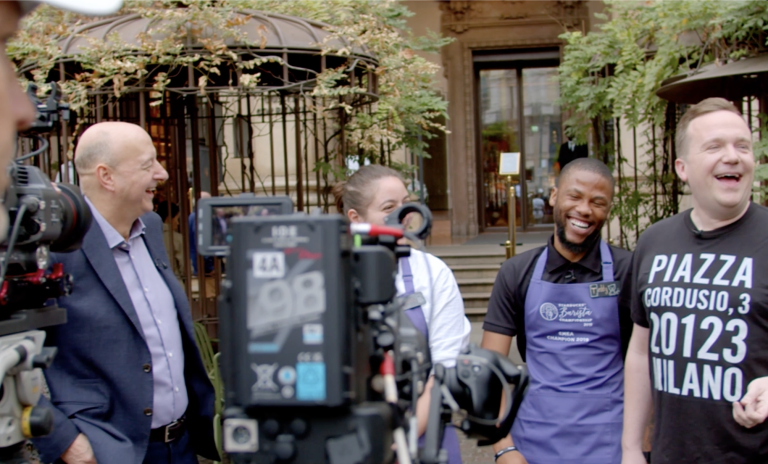 Case Study 1: Starbucks Origin Story
We worked with the Internal Comms, CSR and ESG Teams to create this beautiful film showcasing their sustainability efforts in Rwanda and the first 10 feet of their supply chain.
Starbucks Origin Stories
Starbucks take pride in their C.A.F.E. Practices (Coffee And Farmer Equity) and it's important to them that their staff understand where and how their coffee is grown and the people involved in the supply chain. We were briefed to follow Starbucks partners in Rwanda as they undertook the "Origins Experience".
Assets Produced:
Short form documentary film
Vertical social cut downs
Stills
Broadcast/Impact:
Showcased as the hero piece in the following years Barista Championship Finals
Broadcast across the EMEA in an internal campaign
Housed on the Starbucks' intranet – 'Starbucks Stories'
Case Study 2: How to Brew a Champion

We partnered with the Internal Communications Department to produce a compelling film that showcases the nurturing and celebration of top talent, in order to inspire teams across the globe. This impactful piece took centre stage at Starbucks' annual internal summit.
How to Brew a Champion
Every year Starbucks hold their 'Barista Championships' to crown the Best Barista across the whole EMEA region. We were tasked to find out what makes a winner and create a film that would inspire other partners to fulfil their potential and get the most from their coffee journey.
Assets Produced: 
Mini documentary film
Multi split screen edit
Broadcast/Impact:
Hero piece of content which opened the Senior Leadership Conference in Milan
Broadcast across 5 screens creating an impactful viewing experience
Had the room 'in tears' and was the 'best piece of work they'd ever seen at this event'
Housed on the Starbucks' intranet – 'Starbucks Stories'
Case Study 3 : Barista Championships
Collaborating across the Marketing, Events, and Operations teams, we orchestrated an expansive filming of their Barista EMEA Championships.
EMEA Barista Championships
The Barista Championships are the biggest event of Starbucks' year. Partners travel from all over the globe to compete for the title of Best Barista. We were challenged to record the full day's event then overnight turn it into a 45 minute TV show that could be played across the region the next day.
Assets Produced: 
45 minute TV show
Animated ident
10 x 2 minute winners films
Mini doc about last year's winner
Behind the scenes film
Broadcast/Impact:
Streamed live across the EMEA on the Conference+ platform for 50,000 people to tune in for the finals
Viewing parties organised across the globe to watch the finals
Record engagement versus any previous internal company event
Record sign ups for the championships the following year
Case Study 4: Anniversary Video
The Events, HR, and Marketing teams tasked us with creating a flagship film to launch their EMEA summit in Milan and produce a 25-year anniversary video.
25 Year Anniversary Video
To celebrate 25 years of Starbucks in EMEA we made an engaging and fun film using a mix of existing client footage, stock footage and motion graphics, looking back at how the world has changed since Starbucks launched in the region. An example of our agility and efficiency, we swiftly transformed lacklustre supplied assets, into a captivating piece of content.
Assets Produced: 
Broadcast/Impact: 
Hero piece of content which opened the Senior Leadership Conference in Milan
First video of its kind to celebrate a milestone anniversary
Housed on the Starbucks' intranet – 'Starbucks Stories'
Case Study 5: Teddy's Story
Collaborating closely with the HR department, particularly within the Diversity, Inclusion, and Engagement sector, we embarked on a meaningful project about how coffee can change your life. 
Teddy's Story
Our focus was on documenting Teddy's transformative journey and the profound impact Starbucks had on his life. This narrative served as a powerful source of inspiration for individuals within the Starbucks community, offering a firsthand glimpse into the remarkable and nurturing work environment that sets Starbucks apart. This was broadcast globally to over 50,000 Starbucks employees.
Assets Produced:  
15 minute documentary
2 minute trailer
Broadcast/Impact: 
Premiered at Starbucks' first ever global live stream event to over 50,000 viewers
Record number of viewers tuned in live
Housed on the Starbucks' intranet – 'Starbucks Stories' and still the most viewed page
Departments we work with
Marketing
Internal Comms
Public Affairs
HR
Operations
CSR
ESG
Assets we produce
Creative ideation
Short and long form documentaries
Filming
Editing
Social assets including; TiK Tok and Insta Reels
Product stop-motion clips
Graphic design 
Animation 
Casting 
If you would like us to help you explore ways to spotlight your sustainability, enhance employee engagement, and elevate your company event content, please get in touch:
Email: georgia@snappinturtle.co.uk
Mobile: +44 7736743000